Tweet
GOWRI KALYANA VAIBHAVAME Visit this group
Subscribe box for your web page
Tweet to @lokakshema_hari
Subscribe to GOWRI KALYANA VAIBHAVAME Email: Visit this group
you may send your horoscopes by post to Kalyana Vaibvhavame, A73, Inder Puri, New Delhi 110012, India your donations and contributions are welcome. Cheque/Demand Draft/Money orders may be sent in favour of Shri K. Hariharan payable at New Delhi. You may contact me at 9868369793.
Follow @lokakshema_hari
The cost of Oxygen. Very interesting!!!

In one day a human being breathes oxygen equivalent to three cylinders.

Each oxygen cylinder on an average costs Rs 700, without subsidy.

So in a day one uses Oxygen worth Rs 2100 and for a full year it is Rs 7,66,500.

If we consider an average life span of 65 years; the costs of oxygen we use become a staggering sum of Rs
500,00,000. Rs 50 million.

All this oxygen is derived free of cost from the surrounding trees..

Very few people look at trees as a resource and there is rampart tree cutting going on everywhere which should
stop.

Please pass this to your friends and care for trees.

Please consider the environment. Please don't take print out unless you really need to.
Tweet
free counters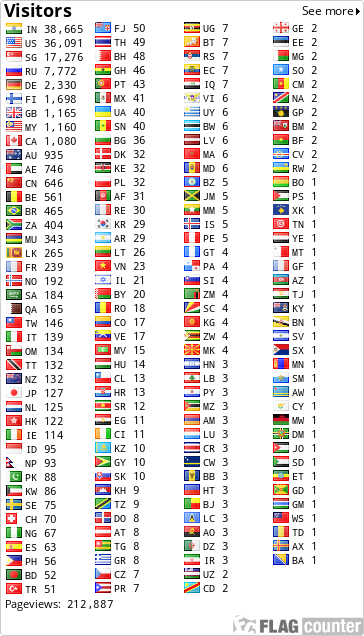 Visit My Website
Subscribe box for your web page Google Groups Subscribe to LOKAKSHEMA TRUST Email: Visit this group Tweet
Click to join lokakshema

Powered by
IP2Location.com
Submit link
http://picasaweb.google.com/lh/photo/60zW28Bt0yMKF4esQAoxlg?feat=directlink
website counter
Inspirational Quotes
Post as thumbnail in MySpace, your blog or website Post in a forum
Search Engine Submission - AddMe
http://www.hindujagruti.org/hinduism/knowledge/category/index.php http://www.hindujagruti.org/hinduism/knowledge/category/shraddha

http://www.p4panorama.com/panosnew/ mookambika_ temple/saraswa.html http://www.stilltasty.com/ http://lokakshema.webduniya.com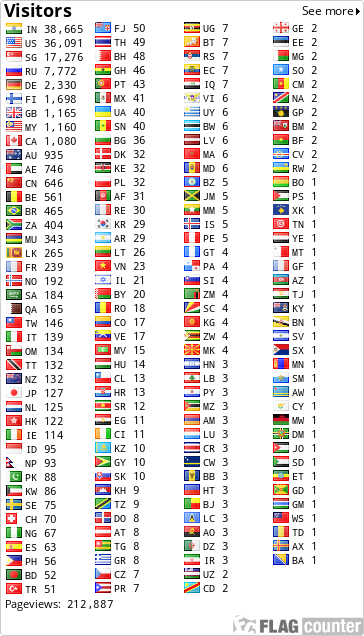 Tweet
Flixxy!
Visit My Website
Subscribe box for your web page Google Groups Subscribe to LOKAKSHEMA TRUST Email: Visit this group
Click to join lokakshema
Submit link http://picasaweb.google.com/lh/photo/60zW28Bt0yMKF4esQAoxlg?feat=directlink
website counter

Inspirational Quotes [URL=http://travel.webshots.com/album/235131548KwTcMk][IMG]http://thumb8.webshots.net/t/20/20/3/19/32/235131932tzJfHq_th.jpg[/IMG][/URL] Embed as slideshow in MySpace, your blog or website Post as thumbnail in MySpace, your blog or website Post in a forum Search Engine Submission - AddMe http://www.hindujagruti.org/hinduism/knowledge/category/index.php http://www.hindujagruti.org/hinduism/knowledge/category/shraddha

http://www.p4panorama.com/panosnew/ mookambika_ temple/saraswa.html http://www.stilltasty.com/ http://lokakshema.webduniya.com Royal National London
http://picasaweb.google.com/lh/photo/60zW28Bt0yMKF4esQAoxlg?feat=directlink
my collection

by harikrishnamurthy [URL=http://travel.webshots.com/album/235131548KwTcMk][IMG]http://thumb8.webshots.net/t/20/20/3/19/32/235131932tzJfHq_th.jpg[/IMG][/URL] Embed as slideshow in MySpace, your blog or website Post as thumbnail in MySpace, your blog or website Post in a forum Search Engine Submission - AddMe Royal National London Follow @lokakshema_hari send email to krishnamurthy.hari@gmail.com