Tweet
GOWRI KALYANA VAIBHAVAME Visit this group
Subscribe box for your web page
Tweet to @lokakshema_hari
Subscribe to GOWRI KALYANA VAIBHAVAME Email: Visit this group
you may send your horoscopes by post to Kalyana Vaibvhavame, A73, Inder Puri, New Delhi 110012, India your donations and contributions are welcome. Cheque/Demand Draft/Money orders may be sent in favour of Shri K. Hariharan payable at New Delhi. You may contact me at 9868369793.
Follow @lokakshema_hari
1. Character: Be a Piece of the Rock.
2. Charisma: The First Impression Can Seal the Deal.
3. Commitment: It Separates Doers from Dreamers.
4. Communication: Without It You Travel Alone.
5. Competence: If You Build It, They Will Come.
6. Courage: One Person with Courage is a Majority.
7. Discernment: Put an end to Unsolved Mysteries.
8. Focus: The Sharper It Is, the Sharper You Are.
9. Generosity: Your Candle Loses Nothing When It Lights Another.
10. Initiative: You Won't Leave Home Without It.
11. Listening: To Connect with Their Hearts, Use Your Ears
12. Passion: Take This Life and Love It
13. Positive Attitude: If You Believe You Can, You Can
14. Problem Solving: You Can't Let Your Problems Be a Problem
15. Relationships: If You Get Along, They've Go Along
16. Responsibility: If You Won't Carry the Ball, You Can't Lead the Team
17. Security: Competence Never Compensates for Insecurity
18. Self-Discipline: The First Person You Lead is You
19. Servant hood: To Get Ahead, Put Others First
20. Teachability: To Keep Leading, Keep Learning
21. Vision: You Can Seize Only What You Can See
Tweet
free counters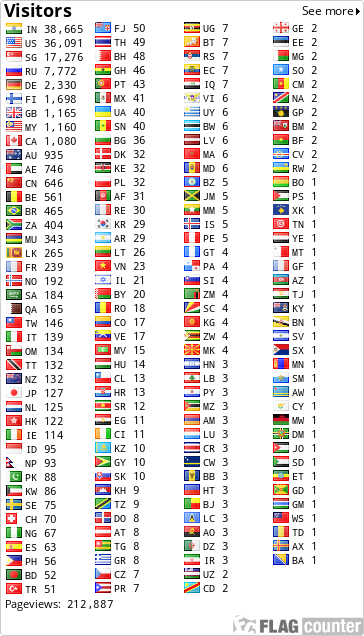 Visit My Website
Subscribe box for your web page Google Groups Subscribe to LOKAKSHEMA TRUST Email: Visit this group Tweet
Click to join lokakshema

Powered by
IP2Location.com
Submit link
http://picasaweb.google.com/lh/photo/60zW28Bt0yMKF4esQAoxlg?feat=directlink
website counter
Inspirational Quotes
Post as thumbnail in MySpace, your blog or website Post in a forum
Search Engine Submission - AddMe
http://www.hindujagruti.org/hinduism/knowledge/category/index.php http://www.hindujagruti.org/hinduism/knowledge/category/shraddha

http://www.p4panorama.com/panosnew/ mookambika_ temple/saraswa.html http://www.stilltasty.com/ http://lokakshema.webduniya.com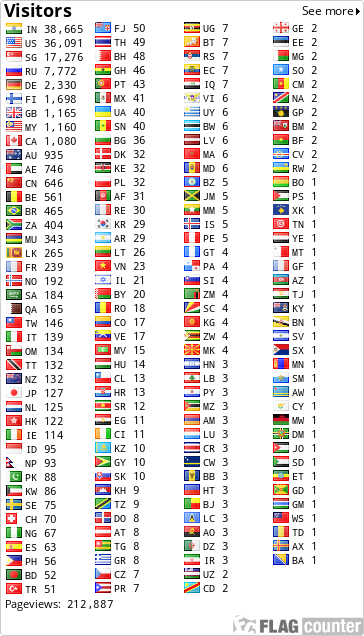 Tweet
Flixxy!
Visit My Website
Subscribe box for your web page Google Groups Subscribe to LOKAKSHEMA TRUST Email: Visit this group
Click to join lokakshema
Submit link http://picasaweb.google.com/lh/photo/60zW28Bt0yMKF4esQAoxlg?feat=directlink
website counter

Inspirational Quotes [URL=http://travel.webshots.com/album/235131548KwTcMk][IMG]http://thumb8.webshots.net/t/20/20/3/19/32/235131932tzJfHq_th.jpg[/IMG][/URL] Embed as slideshow in MySpace, your blog or website Post as thumbnail in MySpace, your blog or website Post in a forum Search Engine Submission - AddMe http://www.hindujagruti.org/hinduism/knowledge/category/index.php http://www.hindujagruti.org/hinduism/knowledge/category/shraddha

http://www.p4panorama.com/panosnew/ mookambika_ temple/saraswa.html http://www.stilltasty.com/ http://lokakshema.webduniya.com Royal National London
http://picasaweb.google.com/lh/photo/60zW28Bt0yMKF4esQAoxlg?feat=directlink
my collection

by harikrishnamurthy [URL=http://travel.webshots.com/album/235131548KwTcMk][IMG]http://thumb8.webshots.net/t/20/20/3/19/32/235131932tzJfHq_th.jpg[/IMG][/URL] Embed as slideshow in MySpace, your blog or website Post as thumbnail in MySpace, your blog or website Post in a forum Search Engine Submission - AddMe Royal National London Follow @lokakshema_hari send email to krishnamurthy.hari@gmail.com